Welcome to
Hotel Aurus Prague
, search and book your room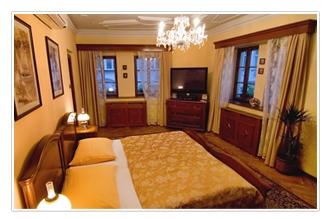 The magnificient Hotel Aurus (At the Golden Well), one of the most beautiful and protected monuments whose origins date back to the 16th century, is situated in the very heart of Prague in the Old Town district.

The hotel is situated on the Kings Road connecting three historic jewels - the Old Town Square, Charles Bridge (5-minute stroll from the hotel) and the Prague Castle (30-min. stroll from the hotel).

This four-star hotel offers to the guests four double-bed rooms and four spacious apartments (some of them include well-kept hand-painted ceilings).


All rooms are equipped with stylish furniture, satellite TV, CD player, mini-bar, safe deposit box and free Internet connection. The supervised car park is situated just 5-min stroll from the hotel.

The restaurant that is located in the gothic cellar serves excellent old Czech specialties, steaks made on the lava grill, Pilsener beer and excellent Moravian wines.
Give us your Feedback
Hotel Aurus, Karlova 3 - Prague